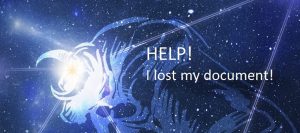 Help! I Lost My Document!
As IT consultants, that's a statement we hear fairly often. It is a statement you may never need to make again if you implement a Document Management System (DMS). With a DMS, you don't need to know where you saved the document because the DMS takes care of knowing for you, significantly reducing the 'human error' factor that contributes to the "mysterious disappearance" of documents. Forgetting folder or file names and locations, having typos in the name that hinder searching and sorting, saving in the wrong folder, or colleagues that save to unexpected locations or move files without communicating, all become a thing of past when you implement a DMS. A good DMS also enhances document security and access.
Aldebaran Group's DMS of choice is Worldox. Worldox is an award-winning Document Management System. The Worldox DMS knows where all your documents are located and tracks when each document is moved, copied, opened, viewed, e-mailed or saved, and by whom.
How Worldox works
Worldox steps in whenever you save a document. Worldox can handle almost any file type, so as soon as you choose to save from Microsoft Word, Excel, PowerPoint, Outlook, Adobe Acrobat or almost any application Worldox will ask you to "Profile" the document, with information like Client Name, Matter, Document Type (Memo, Letter, E-mail Message, Settlement, etc.), Document Title and Description of the document. The descriptions can be up to 5,000 characters (You can be really detailed when describing a document). Based on the Profile information, Worldox will save the document where it should be saved. All the profile information you input becomes almost immediately searchable. So, three weeks, or a year later, when you have forgotten the document specifics, you can find it by searching for the client, matter, document type, date range, or even strings of text that are in the document itself. You can easily combine the search elements to narrow your search. Worldox returns most searches in 1-3 seconds. Even better, you are not limited to documents YOU created. It can find documents created by anyone in your organization, including former employees. So, if you know that Jane Doe worked on a document for you in the last week (or whatever time frame you choose to use) for the ACME Corporation, you can just ask Worldox to show you all the documents Jane Doe created in the last seven days for the ACME Corporation, and in no time it will display those documents for you.
Versions
If you work in legal documents you understand the difficulty in tracking document changes and saving versions. Worldox makes working with versions easy. Documents saved as a new version remain associated with the old document version and will be found with the same searches. Integration with document comparison tools like Workshare Compare make version comparisons easy and accurate. If your firm business relies heavily on finalized contracts, the benefits of version control will be readily evident to you.
Security
Security is another one of the great features of Worldox. It allows you to create Ethical Walls within your organization and set very granular security on documents. Using the default security built into many applications like Microsoft Word, individuals can only secure a document by setting a password. Worldox goes well beyond that by not only allowing you to set a password on documents, but also allows you to decide who can see if the document exists, who can read, who can write, who can re-profile the document, who can delete the document and who can alter the security settings on a document.
Integration
Worldox, by default, integrates with the Microsoft Word, Excel, Outlook, PowerPoint Adobe Acrobat and many other popular programs, and can be configured to integrate with many other 'non-standard' applications. If you have certain Canon, Konica Minolta, Ricoh or Fujitsu scanners, Worldox can integrate with those. Users can scan paper documents directly into Worldox from the scanner. This removes the need to scan the file to e-mail (consuming space on your e-mail server), go to your desk to open the file, and then save the file onto a network folder.
Administration
Worldox is flexible and can be configured to enhance and improve your firm's workflow. Firm administration is able to set rules for document classifications that ensure current and future staff will be able to locate documents. It can also import client/matter information from most popular time and billing programs.
Worldox provides an Undelete feature that allows you to retrieve documents that were deleted (accidentally or otherwise) and need to be retrieved. Those of you who have accidentally deleted documents know how handy this feature is. In typical Windows environments without Worldox, a Network Administrator would have to resort to restoring the document from the backups to retrieve the document (which may not have any of the changes you made to the document since the last backup. With Worldox, the document can be undeleted quickly, and with very little effort.
The Bottom Line
What's the bottom line in making the decision to get a DMS? In most companies, the bottom line is money... "How can we make more of it and keep more of what we make?" The multiple features of Worldox can increase productivity, resulting in more billable hours. While not realized by many in non-DMS environments, users in non-DMS environments spend several minutes per day searching for documents. A few seconds here and there per document, adds up. If an attorney bills at a rate of $400/hour and saves 15 minutes a day by not having to manually find documents, this amounts to a daily savings of $100, or $500 per week… per attorney. In addition to the time savings achieved through easier document location, Worldox nearly eliminates accidental document deletions and save-overs. If anyone in your organization has accidentally saved over a document (an unrecoverable mistake), you likely understand the value of this feature.
Worldox provides world-class document management functionality in a package that is affordable and manageable within a small firm. If you would like additional information on Worldox or would like to arrange a demo, please contact us.
Get in touch today!
Email or call your regular Aldebaran Group consultant, email info@aldebarangroup.com, visit the Contact Us page on our website: http://www.aldebarangroup.com/contact-us/ , or call 202-683-6175 x 101 and leave a message for quick call-back.